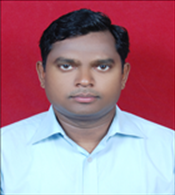 Assis. Prof. Prabira Kumar Sethy
Department of Electronics, Sambalpur University
Speech title:Image Recognition For Cancer Detection
Brief biography:
Dr. P. K. Sethy (Senior Member IEEE) currently working as an Assistant Professor in the Department of Electronics at Sambalpur University since 2013. He has nine years of teaching, research & administrative experience and four years of Industry experience. Previously he worked as Engineer in Doordarshan, Prashar Bharati, from 2009 to 2013. He has received his Ph.D. and M. Tech degree from Sambalpur University and IIT (ISM) Dhanbad, respectively. His research area is image processing, machine learning, and deep learning. He has published 80 research papers in different reputed journals and conferences. In addition, he has two patents. He is the Associate Editor of Onkologia I Raditherapy. He is an editorial board member of the International Journal of Electrical and Computer Engineering. He is also Editorial Board Member in Ingénierie des Systèmes d'Information. IIETA. He received the "InSc Young Achiever Award" for the research paper "Detection of coronavirus (COVID-19) based on Deep Features and Support Vector Machine, organized by the Institute of Scholars, Ministry of MSME, Government of India in the year 2020. He is a Senior Member of IEEE. He is a frequent reviewer of many journals and session chair of international conferences. Email: prabirsethy.05@gmail.com
Research Area: Image Processing, Machine and Deep Learning
Abstract:
Clinicians should looking for techniques that helps to early diagnosis of cancer, because early cancer detection is critical to increase survival and cost effectiveness of treatment, and as a result decrease mortality rate. Medical images are the most important tools to provide assistance. However, medical images have some limitations for optimal detection of some neoplasias, originating either from the imaging techniques themselves, or from human visual or intellectual capacity. Image processing techniques are allowing earlier detection of abnormalities and treatment monitoring. Because the time is a very important factor in cancer treatment, especially in cancers such as the breast, brain, lung, cervix and skin, imaging techniques are used to accelerate diagnosis more than with other cancers. In this paper, we outline experience in use of image processing techniques for lung and breast cancer diagnosis. Looking at the experience gained will help specialists to choose the appropriate technique for optimization of diagnosis through medical imaging.
The medical images such as mammogram, x-ray, CT scan, MRI, histopathological images are very much helpful to detect the cancer. These medical images not only detect but also identify the types of cancer, its stage (progression) and location of abnormality. Hence, I have planned to study and analyze cancer diagnosis using image processing techniques. The diagnostic study is not limited to image processing but, it will extend to most recent techniques of machine learning and deep learning.